EXHIBITIONS, PERFORMANCE, PODCAST
Facts & Figures
Initiated in 2017 by HafenCity Hamburg GmbH, the experimental cultural programme got underway with the appointment of Ellen Blumenstein as HafenCity Curator. Since 2018, we have been operating as IMAGINE THE CITY and are supported by the independent, non-profit association Kunst und Kultur in der HafenCity. So far we have realised more than twenty projects involving almost 100 participants, co-operated with eight cultural institutions and raised more than three million euros.
FUNKFAHRRAD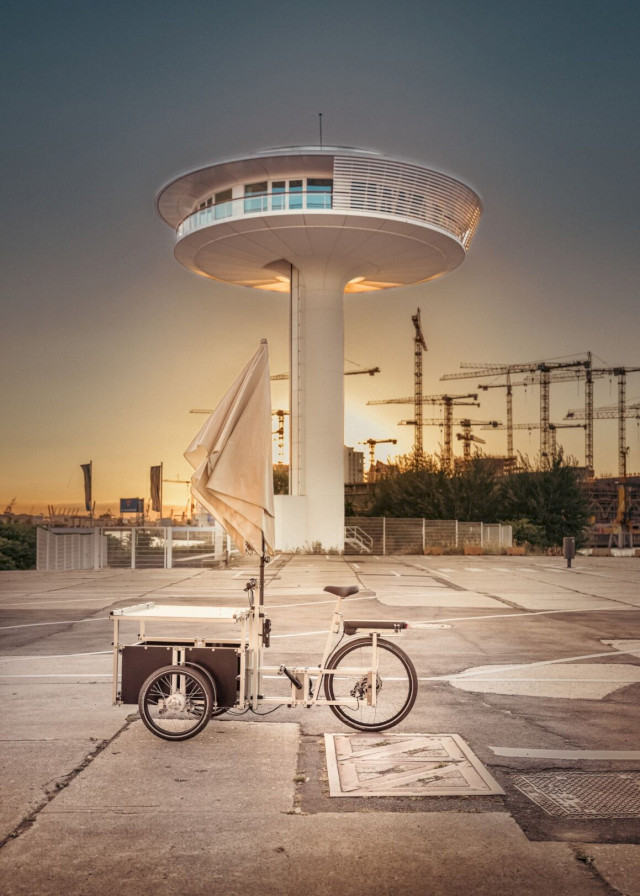 The mobile cultural vehicle is able to record and broadcast podcasts directly from street level, stage discussions in public places, organise karaoke competitions and stream movies licence-free. Plus you can also borrow the bike for free for your own projects!
The City Imagined mit/with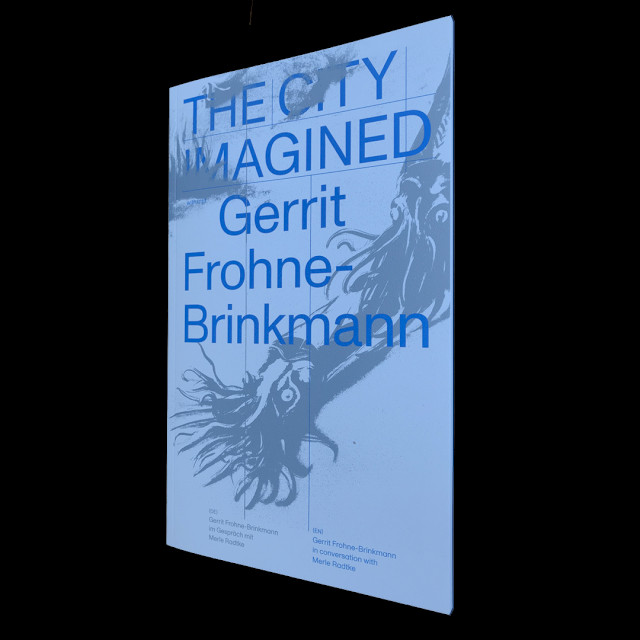 The book series documents our work at HafenCity. Order here free of charge one of the four in-depth interviews with Terence Koh, Julius von Bismarck, Benjamin Maus & Richard Wilhelmer, Liz Magic Laser & Dafna Maimon, and Gerrit Frohne-Brinkmann about the special experience of developing art within the urban fabric.
denk.mal Hannoverscher Bahnhof at Lohsepark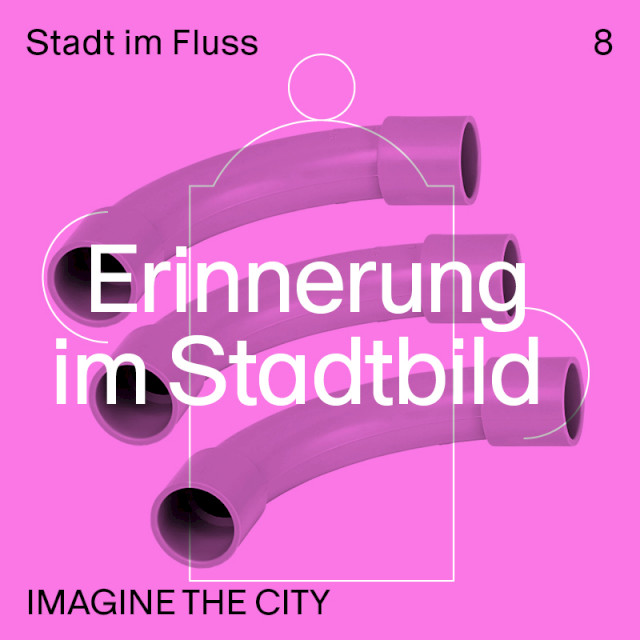 2021 was all about the 'gateway to the world'. In seven interviews, historian Sandra Schürmann looked at how Hamburg's self-image is made visible at HafenCity. This podcast episode for example deals with the question of how remembrance can be kept alive within an urban space and how important 'authentic' testimonies are in this regard.
Populär with Ellen Blumenstein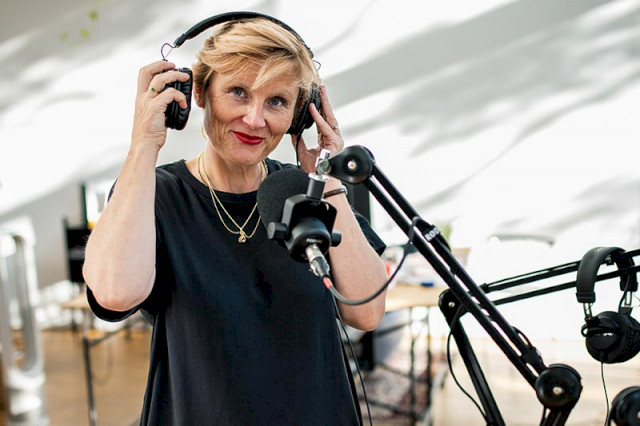 A portrait of Ellen Blumenstein in DER HAMBURGER - the Popular section presents people and projects that give the city a face. To read exclusively in our press area. section features people and projects that lend the city its face. Available to read exclusively in our Press Area.
Breathe in, breathe out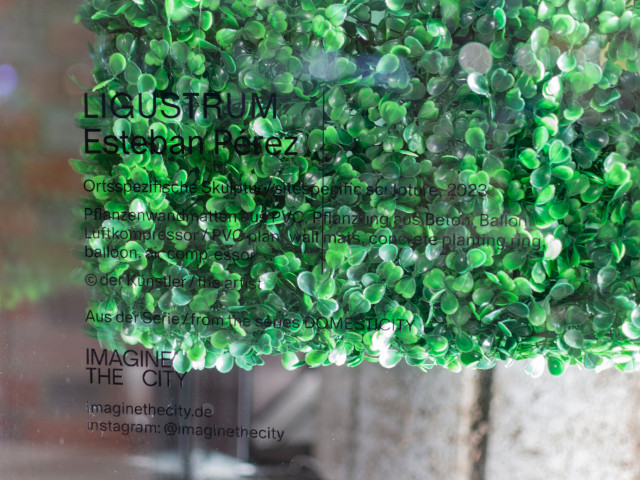 DOMESTICITY
Am Sandtorkai 46 
LIGUSTRUM by Esteban Pérez creates a particular kind of liveliness in HafenCity. 
ITC-Newsletter
Don't miss any of our activities – sign up here!
In the Gästezimmer
From Aug. 26 to Sept. 9 was an exhibition as part of the Seefrauenparade by Jumoke Olusanmi, Dagmar Rauwald, Nilofar Rezai and Farrah Mahmood. The works accompanied visitors on a journey into intimate explorations of trauma, cultural identity, and ruptures, were suggesting new possible connections.
New headquarters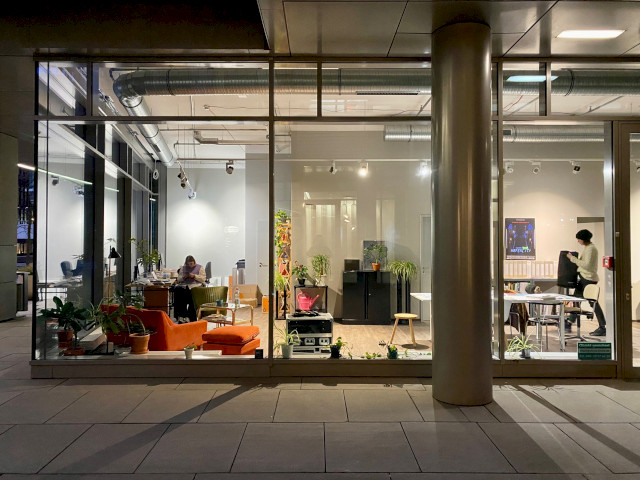 Visit us at the Coffee Plaza: from January 1 you will be able to find us at our new address with our own terrace, directly at Sandtorpark.
New Feature: our magazine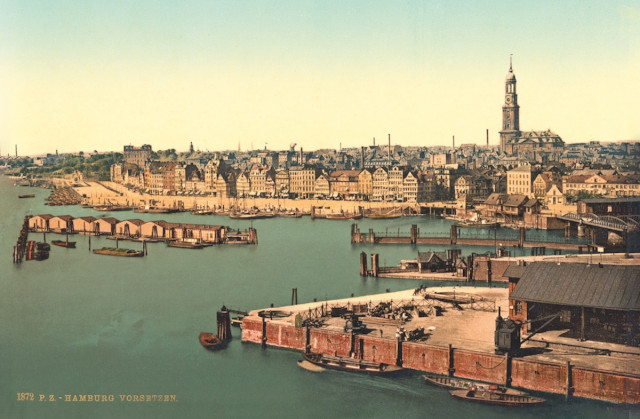 Along with our website revamp we've also introduced a new category. In our Magazine we regularly post exclusive and/or special essays that use the power of language to sketch out images of cities. From all eras and from all over the world.
By bus to art
DOMESTICITY
Our exhibition series plays out inside a display cabinet at the bus stop in front of the PIERDREI Hotel at Sandtorkai. Until 15 January 2023, you have the opportunity to see Saray Purto's HAUS WANDERER colossus comprised of discarded furniture drenched in white paint.
Photo knowledge on Telegram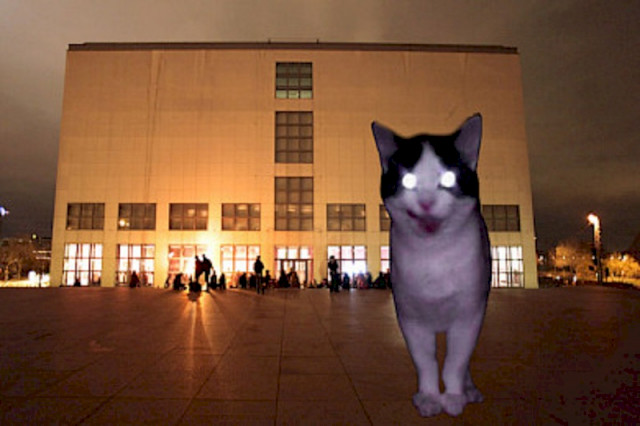 THE INVISIBLE HAND dives deep into the history and theory of photography with videos, chats and comics. As a virtual companion to the 8th Triennial of Photography, we deliberately aimed the festival motto Currency at Hamburg's urban space in the summer of 2022.
The channel remains permanently accessible and is well worthwhile even without the exhibition!
Smiley over the city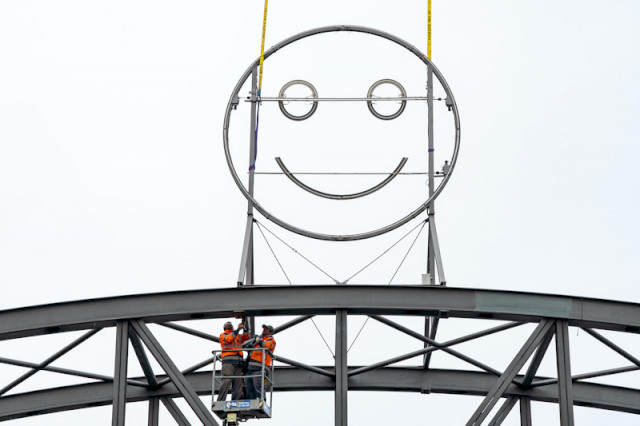 A prominent text about our first project, PUBLIC FACE. In March 2020, a detailed analysis appeared in the architecture and urbanism magazine Arch+. available online anytime.
History, Technology, Infrastructure
Space for dreaming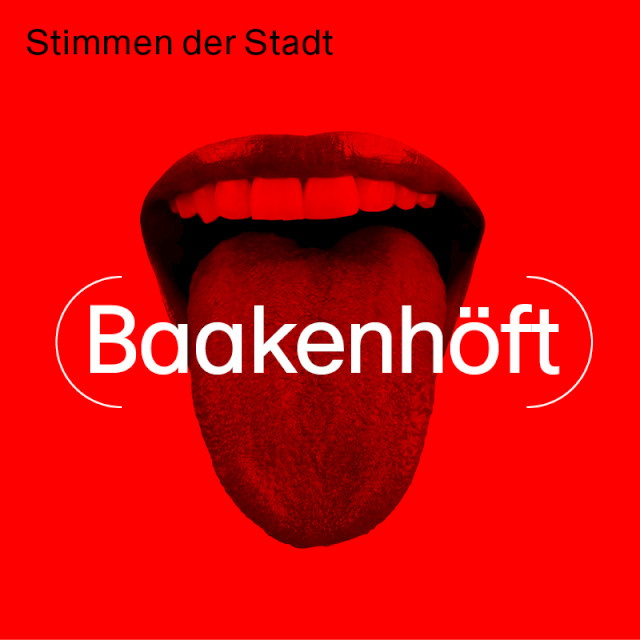 Our latest podcast feature on HafenCity's last unplanned site brings together ambitious, whimsical and visionary ideas for one of the district's most expensive pieces of real estate.
Listen on Apple Podcasts or Spotify to what Annika Kahrs, Hadi Teherani and many others have come up with for this special 'lost place' on the Elbe.
Filter Exhibition, Performance, Podcast, In Print, Hands-on, Immersion, Sculpture, Sound, History, Contemplation, Entertainment, Stage, Technology, Event, Threshold, Outdoors, Narrative, Trade, Infrastructure, Explore, Cooperation,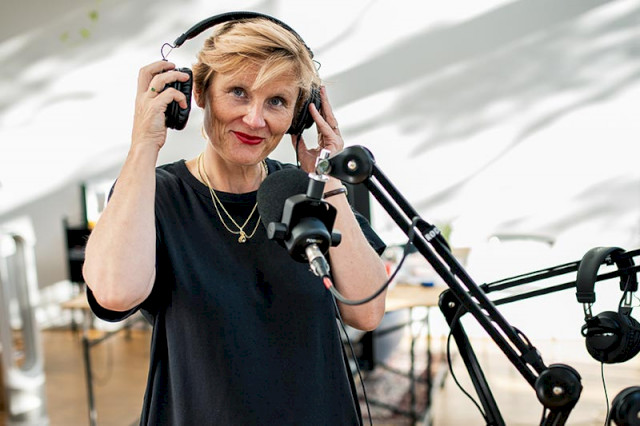 In DER HAMBURGER magazine: a profileof IMAGINE THE CITY.
The Hamburger Abendblatt featured Annika Kahrs's installation in the old dockside warehouse.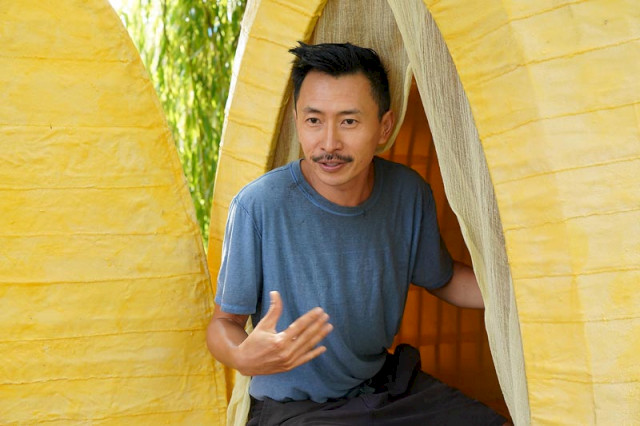 DER SPIEGEL interview with Terence Koh, talking about his BEE CHAPEL HAFENCITY.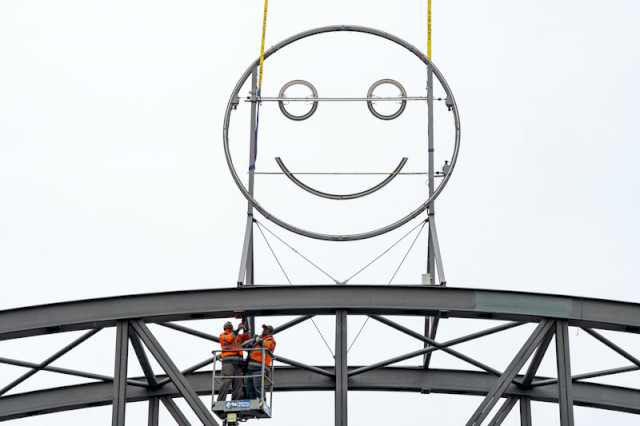 Understanding the PUBLIC FACE: in-depth analysis in Arch+.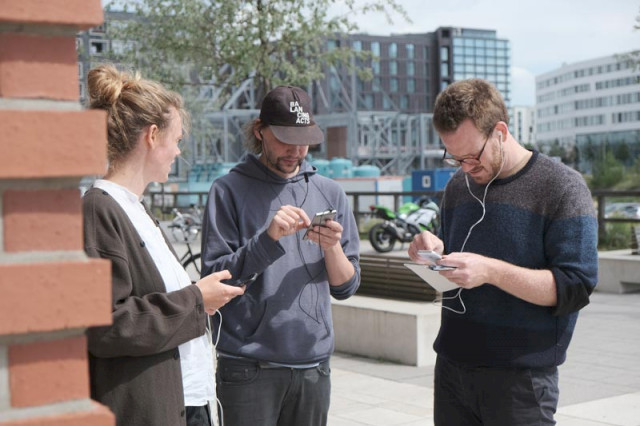 The BOTBOAT in the practical test of the ADAC travel magazine. Published in issue No. 181.
WHO WE ARE
Initiated in 2017 by Hamburg's largest development company, HafenCity Hamburg GmbH (HCH), the experimental cultural programme got underway with the appointment of Ellen Blumenstein as HafenCity Curator. The following year she adapted the programme to create IMAGINE THE CITY, a project orientated less according to her own personal input and more towards the content-related tasks with which she had been entrusted. The project itself is funded by the independent, non-profit association Kunst und Kultur in der HafenCity. HCH provides the basic funding during the pilot phase and is represented on the Association's Board in a bid to facilitate the co-ordination of the various projects. A significant portion of the required budget is secured through the acquisition of third-party funding. Since 2017, we have realised more than twenty projects involving almost 100 participants, co-operated with eight cultural institutions and raised more than three million euros. 
 
WHAT WE DO
IMAGINE THE CITY elaborates representative new formats at the interface between culture and urban planning. We incorporate artistic perspectives into the HCH's urban projects in an illustrative way while collaborating at the international level with like-minded people across all sectors of society. We look at the city from a user perspective and enable encounters with, in, and through its built-up environment so that, together, we can reformulate society's expectations of culture. In doing so, we target an aspect of the city that planning cannot 'plan' for: informal urban spaces highly charged in terms of both narrative and imagination. Practically and discursively, we contribute to shaping the future of our cities in ways that are vibrant, equitable and supportive. 
 
WHERE TO FIND US
In January 2023, IMAGINE THE CITY will be relocating to new headquarters at Coffee Plaza in HafenCity. Our premises are open on three sides, allowing us to interact directly with the outside space and enliven the site for our neighbours, cultural workers and other interested parties, whether it's through performances, film evenings, lectures or workshops. These events are aimed at everyone living a city who is keen to reflect on seemingly unconnected aspects, track down their own blind spots, and as a result help develop images or ideas of the sort of city we would all want to live in. 
 
WHAT MAKES US TICK
Our work ties in with a broad spectrum of cultural initiatives that were incorporated early on into HafenCity's development, e.g. the founding of the Oberhafen Cultural Quarter, the establishment of a number of festivals, and the promotion of temporary and/or subculture-based usage concepts. At the same time, IMAGINE THE CITY has gone beyond the scope of these previous approaches. Indeed, for the first time, we deliberately took action in a systematic, long-term, cross-project and cross-genre way, specifically in those areas where the course for our future lives together is being chartered, i.e. urban development areas. This orientation calls for new concepts, new alliances and new infrastructures that mediate between culture and urban development, stakeholders and clients, representation and activism. 
JOBS 
We are regularly on the lookout for interns. Please submit your applications to: info@imaginethecity.de
TEAM 
DIRECTOR (on maternity leave)
Ellen Blumenstein 
blumenstein@imaginethecity.de 
Always in search of new formats that convey cultural issues to a broad audience, Ellen is utterly committed to the task of thinking about culture and urban development as a consistent entity for Hamburg. At the same time, she is also associate curator at Spreepark Berlin and oversees the Reallabor Kunst im öffentlichen Raum at the University of the Arts Bremen until 2023.  
EXECUTIVE DIRECTOR 
Jonas Wietelmann 
wietelmann@imaginethecity.de 
Jonas relocated from Dresden to Hamburg in spring 2022 in a bid to help make the infrastructure of IMAGINE THE CITY shipshape. He is tasked with turning interesting concepts into doable projects, looks after our fundraising, and is also in charge of networking us far beyond the borders of Hamburg. His main focus is on digital strategies and art education technologies. 
CURATOR
Theresa Michel 
michel@imaginethecity.de 
Theresa has been a member of the IMAGINE THE CITY artistic team since 2019, working as a research assistant and co-curator for three years focusing on Hamburg's past and its trading history as well as helping to develop digital formats. Since 2022 she has taken on curatorial responsibility and is the first point of contact for project and format ideas, joint ventures – and the coining of creative titles. 
OFFICE MANAGER
Lea-Elisa Jüttner 
juettner@imaginethecity.de
Lea has been working on her Master's in Urban Design at HafenCity University since autumn 2022, elaborating repurposing strategies, urban meeting spaces and cultural formats beyond traditional institutions. Besides her office management duties, she also contributes her experience from the Hamburg Office for the Protection of Historic Buildings and as a mediator at documenta 15 to the programme work of IMAGINE THE CITY. 
 
ACCOUNTS AND ADMINISTRATION 
Anke Hollmann 
info@imaginethecity.de 
ART DIRECTION AND DESIGN 
Timm Häneke 
timmhaeneke.de 
Tobias Röttger 
stahl-r.de
WEB DEVELOPMENT
Stefan Wunderwald 
src.plus 
The website was funded within KULTUR.GEMEINSCHAFTEN. The program is funded by the NEUSTART KULTUR rescue and future package of the Beauftragte der Bundesregierung für Kultur und Medien and the Kulturstiftung der Länder.
Ce grand malheur, de ne pouvoir être seul.
La Bruyère
It was well said of a certain German book that "es lässt sich nicht lesen" – it does not permit itself to be read. There are some secrets which do not permit themselves to be told. Men die nightly in their beds, wringing the hands of ghostly confessors, and looking them piteously in the eyes – die with despair of heart and convulsion of throat, on account of the hideousness of mysteries which will not suffer themselves to be revealed. Now and then, alas, the conscience of man takes up a burthen so heavy in horror that it can be thrown down only into the grave. And thus the essence of all crime is undivulged.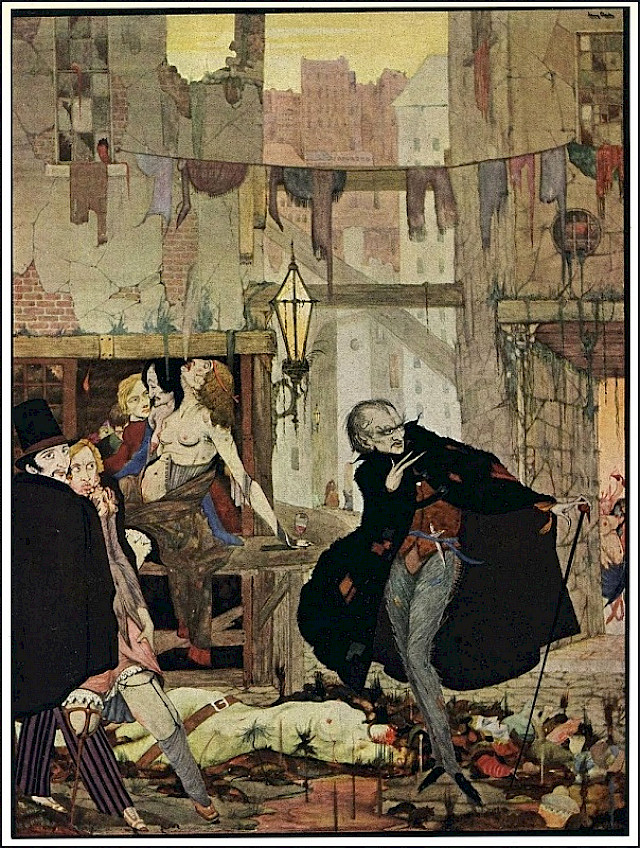 Not long ago, about the closing in of an evening in autumn, I sat at the large bow window of the D… Coffee-House in London. For some months I had been ill in health, but was now convalescent, and, with returning strength, found myself in one of those happy moods which are so precisely the converse of ennui – moods of the keenest appetency, when the film from the mental vision departs – the ἀχλὺς ὁς πρὶν ἐπῆεν – and the intellect, electrified, surpasses as greatly its every-day condition, as does the vivid yet candid reason of Leibnitz, the mad and flimsy rhetoric of Gorgias. Merely to breathe was enjoyment; and I derived positive pleasure even from many of the legitimate sources of pain. I felt a calm but inquisitive interest in every thing. With a cigar in my mouth and a newspaper in my lap, I had been amusing myself for the greater part of the afternoon, now in poring over advertisements, now in observing the promiscuous company in the room, and now in peering through the smoky panes into the street.
This latter is one of the principal thoroughfares of the city, and had been very much crowded during the whole day. But, as the darkness came on, the throng momently increased; and, by the time the lamps were well lighted, two dense and continuous tides of population were rushing past the door. At this particular period of the evening I had never before been in a similar situation, and the tumultuous sea of human heads filled me, therefore, with a delicious novelty of emotion. I gave up, at length, all care of things within the hotel, and became absorbed in contemplation of the scene without.
At first my observations took an abstract and generalizing turn. I looked at the passengers in masses, and thought of them in their aggregate relations. Soon, however, I descended to details, and regarded with minute interest the innumerable varieties of figure, dress, air, gait, visage, and expression of countenance.
By far the greater number of those who went by had a satisfied business-like demeanor, and seemed to be thinking only of making their way through the press. Their brows were knit, and their eyes rolled quickly; when pushed against by fellow-wayfarers they evinced no symptom of impatience, but adjusted their clothes and hurried on. Others, still a numerous class, were restless in their movements, had flushed faces, and talked and gesticulated to themselves, as if feeling in solitude on account of the very denseness of the company around. When impeded in their progress, these people suddenly ceased muttering, but redoubled their gesticulations, and awaited, with an absent and overdone smile upon the lips, the course of the persons impeding them. If jostled, they bowed profusely to the jostlers, and appeared overwhelmed with confusion. – There was nothing very distinctive about these two large classes beyond what I have noted. Their habiliments belonged to that order which is pointedly termed the decent. They were undoubtedly noblemen, merchants, attorneys, tradesmen, stock-jobbers – the Eupatrids and the common-places of society – men of leisure and men actively engaged in affairs of their own – conducting business upon their own responsibility. They did not greatly excite my attention.
The tribe of clerks was an obvious one and here I discerned two remarkable divisions. There were the junior clerks of flash houses – young gentlemen with tight coats, bright boots, well-oiled hair, and supercilious lips. Setting aside a certain dapperness of carriage, which may be termed deskism for want of a better word, the manner of these persons seemed to me an exact facsimile of what had been the perfection of bon ton about twelve or eighteen months before. They wore the cast-off graces of the gentry; – and this, I believe, involves the best definition of the class.
The division of the upper clerks of staunch firms, or of the "steady old fellows," it was not possible to mistake. These were known by their coats and pantaloons of black or brown, made to sit comfortably, with white cravats and waistcoats, broad solid-looking shoes, and thick hose or gaiters. – They had all slightly bald heads, from which the right ears, long used to pen-holding, had an odd habit of standing off on end. I observed that they always removed or settled their hats with both hands, and wore watches, with short gold chains of a substantial and ancient pattern. Theirs was the affectation of respectability; – if indeed there be an affectation so honorable.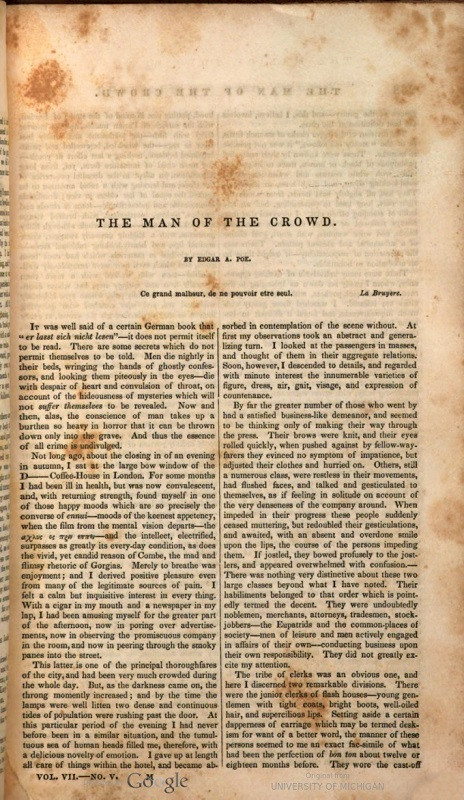 There were many individuals of dashing appearance, whom I easily understood as belonging to the race of swell pick-pockets, with which all great cities are infested. I watched these gentry with much inquisitiveness, and found it difficult to imagine how they should ever be mistaken for gentlemen by gentlemen themselves. Their voluminousness of wristband, with an air of excessive frankness, should betray them at once.
The gamblers, of whom I descried not a few, were still more easily recognisable. They wore every variety of dress, from that of the desperate thimble-rig bully, with velvet waistcoat, fancy neckerchief, gilt chains, and filagreed buttons, to that of the scrupulously inornate clergyman, than which nothing could be less liable to suspicion. Still all were distinguished by a certain sodden swarthiness of complexion, a filmy dimness of eye, and pallor and compression of lip. There were two other traits, moreover, by which I could always detect them; – a guarded lowness of tone in conversation, and a more than ordinary extension of the thumb in a direction at right angles with the fingers. – Very often, in company with these sharpers, I observed an order of men somewhat different in habits, but still birds of a kindred feather. They may be defined as the gentlemen who live by their wits. They seem to prey upon the public in two battalions – that of the dandies and that of the military men. Of the first grade the leading features are long locks and smiles; of the second frogged coats and frowns.
Descending in the scale of what is termed gentility, I found darker and deeper themes for speculation. I saw Jew pedlars, with hawk eyes flashing from countenances whose every other feature wore only an expression of abject humility; sturdy professional street beggars scowling upon mendicants of a better stamp, whom despair alone had driven forth into the night for charity; feeble and ghastly invalids, upon whom death had placed a sure hand, and who sidled and tottered through the mob, looking every one beseechingly in the face, as if in search of some chance consolation, some lost hope; modest young girls returning from long and late labor to a cheerless home, and shrinking more tearfully than indignantly from the glances of ruffians, whose direct contact, even, could not be avoided; women of the town of all kinds and of all ages – the unequivocal beauty in the prime of her womanhood, putting one in mind of the statue in Lucian, with the surface of Parian marble, and the interior filled with filth – the loathsome and utterly lost leper in rags – the wrinkled, bejewelled and paint-begrimed beldame, making a last effort at youth ­– the mere child of immature form, yet, from long association, an adept in the dreadful coquetries of her trade, and burning with a rabid ambition to be ranked the equal of her elders in vice; drunkards innumerable and indescribable – some in shreds and patches, reeling, inarticulate, with bruised visage and lack-lustre eyes – some in whole although filthy garments, with a slightly unsteady swagger, thick sensual lips, and hearty-looking rubicund faces – others clothed in materials which had once been good, and which even now were scrupulously well brushed – men who walked with a more than naturally firm and springy step, but whose countenances were fearfully pale, whose eyes hideously wild and red, and who clutched with quivering fingers, as they strode through the crowd, at every object which came within their reach; beside these, pie-men, porters, coal-heavers, sweeps; organ-grinders, monkey-exhibiters and ballad mongers, those who vended with those who sang; ragged artisans and exhausted laborers of every description, and all full of a noisy and inordinate vivacity which jarred discordantly upon the ear, and gave an aching sensation to the eye.
As the night deepened, so deepened to me the interest of the scene; for not only did the general character of the crowd materially alter (its gentler features retiring in the gradual withdrawal of the more orderly portion of the people, and its harsher ones coming out into bolder relief, as the late hour brought forth every species of infamy from its den), but the rays of the gas-lamps, feeble at first in their struggle with the dying day, had now at length gained ascendancy, and threw over every thing a fitful and garish lustre. All was dark yet splendid – as that ebony to which has been likened the style of Tertullian.
The wild effects of the light enchained me to an examination of individual faces; and although the rapidity with which the world of light flitted before the window, prevented me from casting more than a glance upon each visage, still it seemed that, in my then peculiar mental state, I could frequently read, even in that brief interval of a glance, the history of long years.